Australian Champion Aldonza Kiss & Tell
Companion Dog

AKA   " KISTA"  the Ugly Duckling
I bred Kista from my Champion Aldonza Sheeba and a dog I much admired, Champion Alanza Regmar Rebel.  Kista was a big, awkward, ungainly puppy - all head, big ears, short coat, long gangly legs and all angles.

Pretty she certainly wasn't.

Often other exhibitors would chastise me for keeping her to show, laughing at her long legs.
Kista was a highly intelligent pup, learning basic obedience willingly and easily.  She gained her C.D.(Companion Dog) title very quickly, earning her first pass at only eight months.  I really didn't care what she looked like.  I loved her.
At twelve months Kista was training for her agility title.

A natural athlete, she just loved the fun and excitement of the jumping, climbing and weaving of this speed sport.  Unfortunately she was a "trick a trial", coming up with a new way of failing every time,  but nevertheless entertaining the audience.
She would choose the next obstacle, not taking my direction as she should.  Then she would turn and smile as they laughed at my frustration.  Great fun for her, but not the way to get an Agility title!
After about 20 unsuccessful trials that part of her career was put on hold, (permanently).
What a wonderful personality she was!  It didn't matter to me if she never won a show.   I just loved her for who she was.  I showed her, without much success for the next two years.   By her third birthday a graceful swan had started to emerge.
Two days after her birthday, in 1990, she won "Runner-Up in Show" at the Samoyed Club of Victoria's Championship Show. Specialist Judge Mr. S Gabb of Sever Samoyeds NSW said she was" lovely."

WOW !!

Later that year Kista was Best In Group at Adelaide and Hobart Royal shows, both judged by top Scandinavian judges. Kista became Champion Aldonza Kiss and Tell C.D.in just 4 shows.
1991 brought her first Best in Shows, first at the NSW and then at the ACT Samoyed Club Championship Shows.   At Sydney Royal in 1991, she had to be content with Runner-Up Samoyed to her litter sister Ch Aldonza Show And Tell, under a top Dutch judge.
1992 Kista was again Best in Show at the NSW Samoyed Show and Best Samoyed at the Sydney Royal again.
Retired from the ring for maternal duties,  Kista gave birth to a beautiful, single male pup whom we called Kistas Kid.  Later in that year she had four more pups.  Kid won Best Puppy in Group 1993 Sydney Royal Show.
Other highlights of 1993 were Kista's third Royal Best in Group win, her son Kid was best male and Runner-Up to his Mum, and Kid's younger sister Golda (one of the four) was Best Puppy in Group at the same show.
1994, at the age of seven, Sydney Royal was the climax of Kistas Show career.  She beat 77 other Samoyeds, won Best in Group again and then went on to be awarded" BEST EXHIBIT IN SYDNEY ROYAL SHOW" out of 5500 dogs.  Judge Mr C. Aldercruetz from Norway said of her  "a sparkling bitch."   His critique read..........." The Samoyed was very nice in size.  She has a beautiful head and ears, nice expression and very good pigmentation.  She moved like a sleigh dog should,with a low head, and had a super coat and lovely temperament "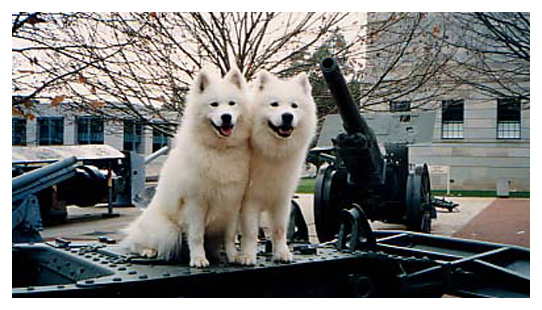 Kista and Suki - Canberra, Australia

Kista lived to a ripe old age as my precious friend and companion, She would keep my youngsters in line from her arm chair in the corner of the lounge room helping me train them.

A very sad day when she crossed the "rainbow bridge"
I so loved my beautiful swan!