The Samoyed Dog
The Samoyed is a friend to all mankind.

This is the most important feature of our breed.

Wonderful with children, he is highly intelligent, full of fun (and sometimes naughtiness) and must be trained and included as part of the family to be totally appreciated.
The Samoyed dog is the most physically efficient of all the Northern Breeds. He is a naturally built dog with no exaggerations (except, of course, his beauty !)
In his native environment he is a herding dog, a protector, a sled dog and most importantly a companion.to the Samoyed tribesmen and their families..
As a family pet he does not need a huge yard, but does need to be safely enclosed and exercised daily.
Males are 20 - 22 inches at the shoulder and Females 18 - 20 inches.
Males should weigh 20-25 kilos and females 18-22 kilos depending on height.
He has a more pronounced double coat than the Alaskan, Siberian, Lapphund and the rest of the Spitz family.  This beautiful coat can be pure white, white and biscuit, cream or all biscuit.  The long silver guard hair is tough and water repellent.  Snow cannot accumulate on this coat, which should be coarse and stand straight away from the body, never drooping.  The undercoat is thick and woolly and sheds approximately once a year.  This can be spun, knitted or woven just like sheep's wool.
There is no need to worry about the heat of summer as the coat insulates the dog against the heat as well as the cold.  It can be disastrous clipping a Samoyed as their body cannot regulate the temperature naturally and they can die of excessive cold or heat.
The Samoyed dog has no doggy odour as the coat is not greasy like other dogs.  If the coat is brushed and combed regularly bathing is only necessary once or twice a year.  (unless you are showing )
The medium to deep brown eyes are set in black, almond shaped rims which can slit down to almost nothing to prevent blindness from the sun glare off the snow.  His feet are designed like snow shoes, the toes can spread to prevent the dogs sinking into the snow.
As a family pet they are unequalled, intelligent, active, friendly, happy, outgoing, funny, family orientated and beautiful.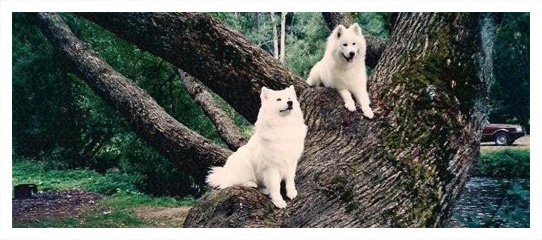 My Introduction to the Samoyed
When I was about 7 or 8 years old, a scruffy old male Samoyed called Jody lived close by.  I thought he was the most beautiful animal I had ever seen.  As soon as he was left on his own he would make it his business to visit every house in the street picking up a few tit-bits and pats along the way.  He had a lovely personality and I played with him for many hours, taught him many tricks and generally just loved him.

When his family would arrive home from work,  off he would trot back to them.  I am sure they didn't know of his double life.  Jody had hooked me on this beautiful, white, fun-loving, breed with the happy, smiling face.
The first Samoyed of my very own was a gift for my 14th birthday (more practical than a horse I had been pestering my mother for).  Misty was from lovely pedigreed bitch called Ch Lynstar Sonya, owned by Mrs. Betty Kent (DelstarKennels) who lived over the road from us.  Betty would take me to the Dog Shows.   She taught me lots about grooming, handling and showing.  Misty was intelligent, loving and such a willing learner. Whenever I wasn't at school Misty was with me.  She was my best friend.

Soon after Zahra, another show Samoyed joined us from Mrs.Olive Smalley (Lynstar Kennels).  Mum and Dad had got hooked as well!

I really enjoyed being competitive at shows.  I loved travelling all over Victoria and meeting new people with a similar interests, and doing all that with the dogs that I loved so much.

How lucky was I?  About a year later both of these girls, although vaccinated, contracted a horrible strain of distemper and died.  My life was totally shattered.  I had never known such grief.  I cried myself to sleep at night for months.  The pain was almost unbearable . I determined that I would never allow myself to love an animal again.  It just hurt too much.
Lynstar Rebecca was given to me by Mrs Smalley.  She was the daughter of a famous import Ch. Imperial Rebel Of Kobe (Imp UK).  She was a beautiful Samoyed.  For the first 6 months of her life Rebecca was a 'kennel dog" She lived in a section of the garage not in the house as the others had.  She was fed, watered and looked after properly, but I could not allow myself to show her any affection.  She tried every way she could to make me love her.  When she was about 6 months I went to her pen to feed her.  She did not hear me coming and I watched as she allowed a little field mouse to share her pen.  I thought how lonely life must be if your only friend was a mouse.  I melted, cuddled her, cried and told her how sorry I was that I had been so cruel.

The next 14 years with Rebecca were wonderful.  She became my constant companion, best friend and confidant as I was growing up.  Becky helped me through my school exams,  my first job interviews,  my first boy friends (until we eventually found one we both liked, who is still around today).  Becky was always there for me.
Children without a dog miss so much!
Rebecca became the foundation bitch of Aldonza Kennels, and the rest, as they say, is history.
Fay Tucker
A Smile a Minute
by Don Mahoney

Famed for its permanent smile, the Samoyed has given breeder Fay Tucker plenty to grin about over the years.. Read Full Article >>