Buying a Samoyed Puppy

Buying a Puppy, next to choosing your spouse,  is one of the most important decisions you will make in your lifetime.  After all this puppy will grow into a dog who should be your constant companion for the next 10 to 15 years. 



It is therefore important that you are compatible.  This lifespan is probably longer than you will keep a car or a house (and in some cases your spouse!!)

It is also important that you trust your breeder, knowing that they are not just "Back-Yarders" breeding for purely profit, but they are there to help you through the life of your pup.

I like to meet those interested in becoming new owners and encourage them to visit me and my dogs.

This way they can usually see the both parents in their home environment, playing in the paddocks, interacting with each other and of course amusing us humans.

They are not the right dog for everyone.
A Samoyed is an active, agile, intelligent dog, needing regular exercise.  They very much enjoy the time you spend training them.  They are born "show offs" and "clowns".   When you visit they will push each other out of the way to gain your attention,  ( don't wear your best ' Gucci ' gear ')   and do silly things to make you laugh, just like kids do.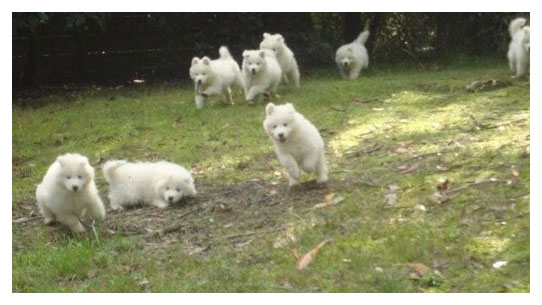 It is very important to make sure that a Samoyed is the right breed for you and that you are right for them. They can be mischievious and sometimes vocal dogs that NEED to be part of your family, including sharing in what ever you are doing (gardening, playing, watching TV or on the computer  etc.)

They want nothing more than to be with you, where ever you are, especially in the house. (As I write this I have 3 Sams asleep at my feet............lovely company)

They are intelligent and willing to learn, but don't enjoy too much repetition once they have mastered a task.

Keeping a Samoyed alone in a yard is hard on this breed as they are a very social animal;  in fact all they want to be is part of your "pack'.  Alone they will get into mischief.
Aldonza Puppies are raised in my home environment and are socialised from birth with children, other dogs and my cats. Later they meet the horses and learn to chase the rabbits.
I only breed to improve my show stock, usually keeping one or two from each litter  to see if they grow into just the "perfect" show dog either for me or my partners interstate.

My breeding dogs are screened carefully for any inherited diseases (eg. hip dysplasia and eye problems) and my puppies are thoroughly vet checked, wormed, vaccinated, microchipped and registered before they leave home.
I have imported dogs and frozen semen from some of the best stock in the world to combine with my blood lines that I have developed over the past 40 plus years. Aldonza dogs have also been exported to breeders/fanciers in NZ,.UAE, USA ,UK, South Africa and Scandinavia.
Aldonza baby puppies, older puppies, and occasionally young adults or retired show dogs are available to suitable, loving, permanent homes.

Because of their loving, open, extroverted personalities,  Samoyeds do not have any problems settling into new homes.
A fully enclosed yard is essential, as they will seek company elsewhere if you are not home. Where ever they get attention, fun, love and food they are happy.
I do not sell pups for breeding purposes and they are also excluded from being on-sold or exported unless with my written consent.

There any many activities you and your dog can join in. These include Obedience, Agility, Tracking, Herding, Showing, Catwalk Modelling, Sledging, Weight Pulling, Dog Dancing...and as Therapy Dogs, all of which are fun and rewarding.
If for any reason you are not able to keep your Samoyed I do ask that he/she be returned to me.
If you are interested in owning one of my beautiful  Samoyeds please feel free to ring me - I am more than happy to spend time discussing their many virtues.